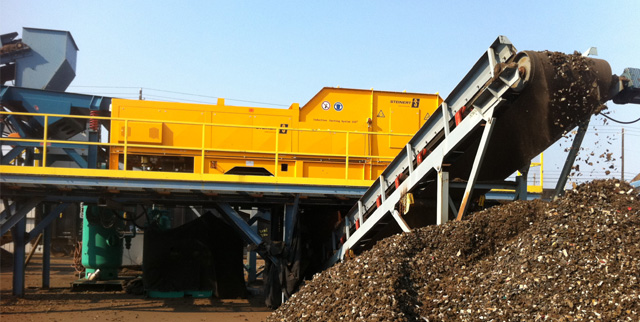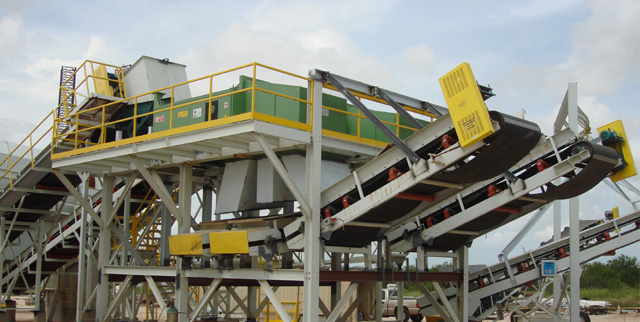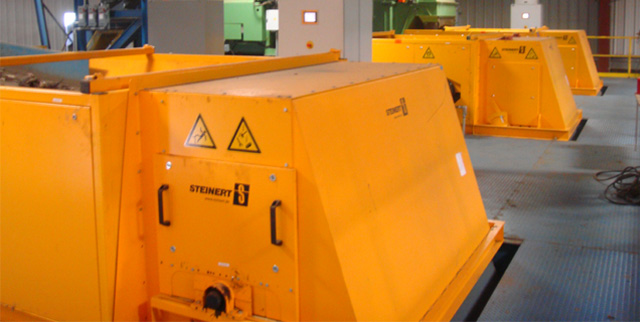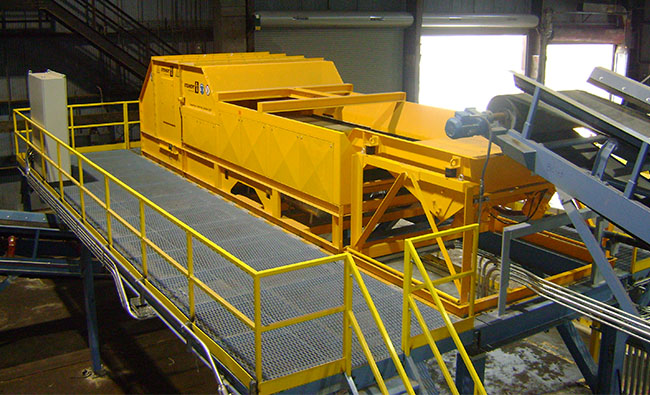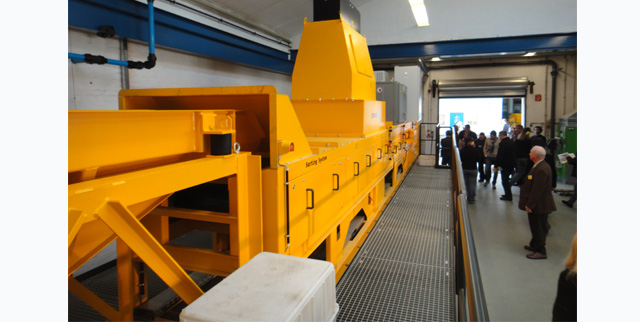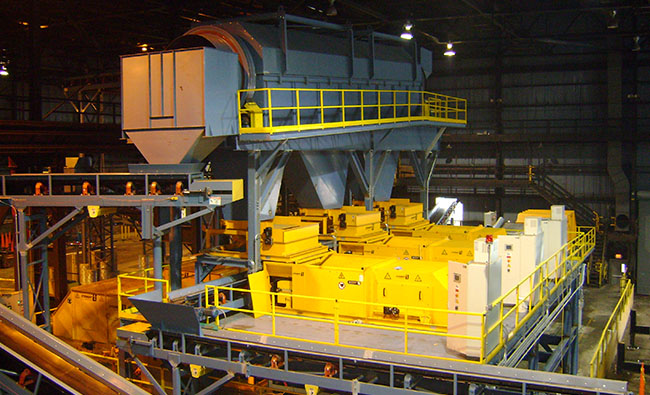 NON FERROUS METAL PROCESSING
A Non Ferrous reclaim system can be a simple mixed recovery process, to achieve maximum metal units recovered, with minimal handling (for smaller processes); all the way to recovering the metal fines stream, separation of certain metals from other metals, recovering S.S, and finally recovering insulated copper wiring, and then processing that for a granulated, color sorted product; to yield the absolute highest metal values (for high production processes).
There are a number of various suppliers of the major components needed for these processes; but none offer complete , well-designed systems, with all necessary complimentary equipment, such as batch feeders, conveyors, particle sizing, hoppers, structures, controls, etc, with the exception of a very few suppliers, such as us.
We use only the best components, which are almost exclusively Steinert Magnetic Products.
EDDY CURRENT SEPARATOR (ECS) -> ZORBA
A non-ferrous metal separator basically consists of a short conveyor. A rapidly rotating system of permanent magnets is incorporated in the head drum. The magnets generate strong eddy currents in the non-ferrous metal parts which eject the NF parts from the rest of the material flow. The special feature of Steinert's non-ferrous metal separator is the eccentric pole system. The pole system is adjustable, so that the application of force can be optimally adjusted for maximum ejection efficiency. As compared to concentric pole systems, the eccentric pole system increases the metal yield by 50%. The service life of the belt and drum shell is considerably lengthened.
INDUCTION SORTING SYSTEM (ISS) -> ZURICK
In certain cases, metallic components, e.g. stainless steel and composite materials, cannot be recovered using magnetic separation and non-ferrous metal sorting processes. The ISS® induction sorting system is the logical solution to this problem.
Previous experience has shown that the rate of both purity and recovery is considerably greater than 90%, depending on the conditions in the plant. Therefore, automatic separation using ISS® sensor technology can more than double the recovery of valuable materials as compared to the manual sorting methods often used today, which at best have a 40% yield.
The ISS® increases throughput three- or fourfold – all factors that have a substantial impact on your company's bottom line. Precise screening and further crushing improve the results even more.
COMBINATION SENSOR SYSTEM (KSS) -> INSULATED COPPER WIRE
Shape recognition is an important criterion when it comes to manual sorting on the conveyor belt. The Steinert KSS now makes shape recognition fully automatic and usable as an additional separating parameter. Shape and volume recognition make sensor sorting systems even more efficient. The KSS: innovative, efficient and the perfect enhancement for many types of sorting processes, whether used alone or to complement other sorting systems.
NEAR INFRARED SYSTEM (UNISORT) -> GRANULATED COPPER
The UniSort® near infrared sorting system precisely detects plastics with grain sizes up to 4 mm and recovers the material for recycling. The system efficiently separates individual plastics found in packaging waste, mixed plastics from electronic scrap (WEEE), and low-PVC refuse derived fuels from residual waste fraction.
The UniSort® near infrared sorting system uses high-precision particle detection followed by a burst of compressed air to separate the detected particle.
Over 300 UniSort® machines have been commissioned by RTT STEINERT over the past 20 years, to the complete satisfaction of the company's international customer base.