USED EQUIPMENT
Hydraulic DFR
Feed chute with supports
3500 HP Siemenes Motor
Driveshaft
Steel Belt Infeed Conveyor
Undermill Oscillator
Power Units
Price on Request
Top/bottom discharge
Reject door
Mounted on spring boxes
All cylinders
Rotor
UMO, feed chute, DFR and Z-box, negotiable
Price on Request
In service less than 1 year
Price on Request
Includes Sullair air compressor (needs work)
In service less than 1 year
Price on Request
96" wide units
With structure
24 extra air valves
Price on Request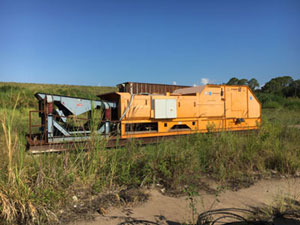 Model NES200 220 with Vibratory Feeder & Support frame
With controls
Price on Request
Shredder Mid Section - with reject door and both reject door cylinders
Shredder Bottom Section
Undermill Oscilator
Mill Lube Power Unit
(2) Feed Rolls
Pin Puller Cylinder
(2) Mill Tilt Cylinders
(2) Drum Magnets - 1 permanent approx. 60" diameter 48" wide - 1 elec. (no rectifier) 48" diameter 60" wide
Metal Tech Sensor Sorter
Price on Request
490 HRT SW
Rockwell VDF Power flex 700H AC Drive 480V
Price on Request
600 HRT SW
Rockwell VDF Power flex 700H AC Drive 480V
Price on Request
Needs about 40 hours build up on end discs
Manufactured for 5-7/8" diameter pins
Comes with 60 new helmet caps
Price on Request
Does not include the air compressor or vibrating feeder table
Price on Request
13.2 kV
60 Hz
446 RPM
Serial # DOX4535
16 pole
Slip ring Shredder Duty
Bearing RTD's 1 each
Winding RTD's 1 each
Anti condensation heaters
Proximity speed sensor
Arc detectors
Differential CT's on stator leads
Surge capacitor
Totally enclosed "Liquid Cooled"
Price on Request
Shredder Duty
Frame No. 1000
16 Pole
4160V primary
888.9 FLA
445 RPM
60 Hz
Protection IP24
Air cooled
Type HWPII
Serial #LG80414201
Price on Request
(1) Spare Shell (2) 25 HP Drum Drives
Price on Request
The only used part is the internal Coil Frame & shaft assembly.
All new end discs, seals, mounting blocks, standard shell with knockoffs (not split), torque wrench, all new fasteners.
Comes with an "As New" 1 year warranty.
In stock.
Customer list price $45,000 Ex works.
Our HMI customer price $42,250.